Well loves, the weekend is over...boo! And it is the beginning of a new week. Here is to making this week a great one (raises glass). To start of my week, I decided I was feeling a little "fall-ish". I wanted something that screams Hey! Autumn is here! And I decided to paint my nails with Sally Hansen's Insta-Dri polish in #18 Cinna-Snap ($4.99 at CVS). This polish color is sort of a deep reddish brown. It's the Perfect color for a fall mani.
As usual with the insta-dri polishes, I had no problem with application and everything went on smoothly. I love the insta-dri polishes because they leave me with absolutley no air bubbles! I love it! And they dry super fast too. I definitely recommend these polishes, they are truly amazing and they come in so many fun colors. Can't wait to try more. I also added a fun Konad image to one finger on each hand. I put a bow design on the tip, and a heart under it. Didn't exactly come out the way I wanted it to, but it's K...I love it anyways *-*
I used 2 coats for each nail.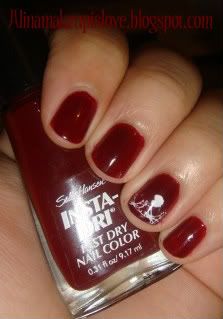 Have any of you tried Sally Hansen's Insta-Dri polishes? Love em? Hate em? Let me know in the comments section!
Thanks for stopping by loves!
Disclosure: I bought this nail polish on my own at my local CVS drugstore.