L'oreal Extra-Volume Collagen Mascara in Black Brown
Hey amigas y amigos!
I have finally came around to trying this new mascara by L'oreal, and I chose the mascara color in black brown instead of black. I always usually buy my mascaras in black but silly me was not realizing that I had chosen black brown instead :( But it's ok! Extra-Volume collagen mascara states that it gives 12 times more intense lashes instantly. Were they on point with the statement? Read on to find out!

L'oreal Extra-Volume Collagen mascara contains a Hydro-Collagen Complex Formula, which contains collagen and it is used to plump up, and boost lashes from the inside. This formula sounds really interesting to me as I have not quite heard anything of the sort. Something that helps lashes work from the inside out is new to me.

Here is a list of all the statements on the mascara packaging:

1. Contains a special Hydro-Collagen Complex formula
2. Does not Smudge
3. Does not flake
4. Does not clump

Also, the brush this mascara has is very full. It's pretty big, but it can easily be worked with. This brush-Instant Impact Brush, as it says on the packaging, is "custom designed and shaped to be able to reach every lash from corner to corner, for instant impact. Soft, Luxurious bristles define and volumize all of your lashes."

Ok-I had to put this baby to the test. Here are some pics


Bare Lashes
Lashes with 2 coats of mascara-clumpy huh? boo!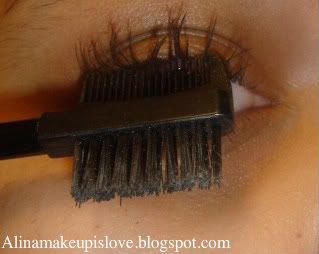 Trying to comb out the clumps with a lash comb
A little better-but still a bit clumpy

Left-with mascara, Right- no mascara
Here are my observations:
*
I did notice a noticeable difference in the length of my lashes with 1-2 coats. I like the fact that this mascara does volumize and lengthen.

*Unfortunately, this mascara did smudge and flake on me within 1 hour of wear.

*While applying this mascara, it did clump on me after 2 coats. When it clumps on me I try to comb out the clumps with a lash comb. But it still seems clumpy to me.

*The mascara brush is not hard to work with. I like that its full, and flexible. I don't know how this mascara will work on lower lashes, since I don't usually apply mascara to my lower lashes.
*
I love the packaging of the mascara. It's black, shiny and I love the snap shut wand, that ensures the mascara is tightly sealed.
Overall, this mascara is not on my HG list because of the fact that it clumps, smudges, and flakes off pretty quickly on me. I did like the voluminous and lengthening effect I got. Everybody is different and responds differently to different products. I say try it, and see how you feel about it. What is not good for me, may be the best thing for you!
Have any of you tried the L'oreal Extra-Volume Collagen mascara? Liked it? hated it? let me know in the comment section. What are your favorite mascaras?
L'oreal Extra-Volume Collagen mascara can be found in drugstores nationwide and retails for $8.00.
Have a very happy, and safe Columbus day weekend lovelies!
*Disclosure: This mascara was purchased by me