I have always had this itch to try Lush products. I always read great reviews on their products. Lush is a company that gives us great skincare items, and bath items that are all-natural and free of preservatives. I stopped by my nearest Lush store last weekend and I was immediately taken aback by the smell. I have to admit, when you first enter the place the smell of all those natural and organic products can be a bit overwhelming. But I got used to it and I was determined to look around and see all the greatness Lush products have to offer.
I went in the store and I was immedietley greeted by a lovley sales associate. I told her I have never tried any Lush products and she offered to give me a little tour. She sampled many cleansers, scrubs. soaps, and she even showed me how to use their famous bath balms. She dropped one in a pail full of water and the ball immedietley bubbled up. It was quite fascinating I must say. I left the store with
Fresh Farmacy Face Soap
, and
Ocean Salt Face and Body Scrub
.
I have not been using these products for long. But I must say I am really loving them both so far. Although I do find the price tag a bit hefty for both the fresh farmacy and the ocean salt scrub (Fresh Farmacy cost me $9.65 (0.245lb), and ocean salt scrub cost me $18.60 (4.2 oz).
Lush bag-isnt it cute!
Fresh farmacy Face Soap in the packaging
Fresh Farmacy Face Soap-They cut it in a heart shape, how adorbs! (FYI, Some items in Lush are bought by piece. Such as, how much of a piece you want to buy. And price depends on the weight as well. I asked for half of a whole piece, which weighed 0.245lb and it cost me $9.65. It costs $39.40/lb. I hope that made sense haha).
Fresh Farmacy Face Soap contains Chamomile, Lavender, and Tea Tree in Calmine Powder. The SA at lush told me that this cleanser is great for those who have sensitive and acne-prone skin. This cleanser is also leaves a matte finish to the skin, so it is great for oily gal's. And dont worry, it's not a "hey look at my dry skin" kind of matte, its like a nice finish matte. So I immedietley got it. I have used it a few times and man does this thing leave my skin soft! Like baby smooth soft-no lie. And I have not broken out from this at all, so I am pretty sure this cleanser is reacting well with my skin. I also love that it does not dry out my skin, and you only need a little tiny bit to wash your whole face. I just cut a tiny piece and put the rest back in the wrapping packaging, and I apply the little piece of Fresh Farmacy to my wet face and massage it in. The only thing I am not crazy about is the smell of the cleanser, I cant exaclty describe the smell, but it is kind of like a herbal smell. But it is definetley tolerable. I would definetley buy this cleanser again. It's really nice for my skin.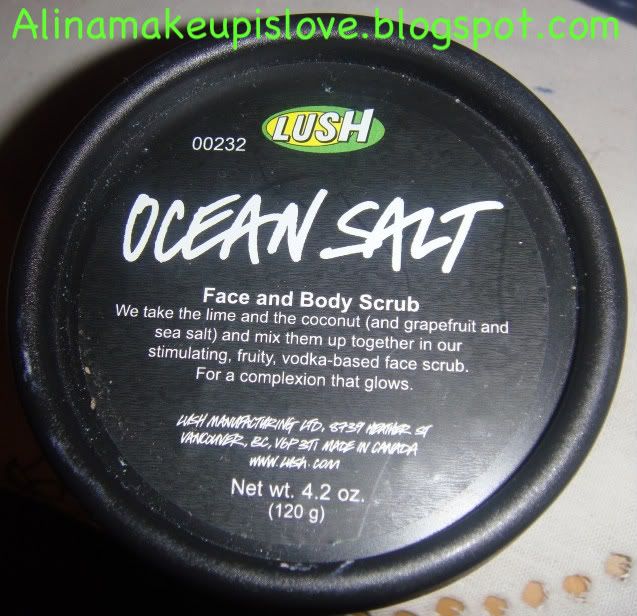 The srew off/on lid of the Ocean Salt face and body scrub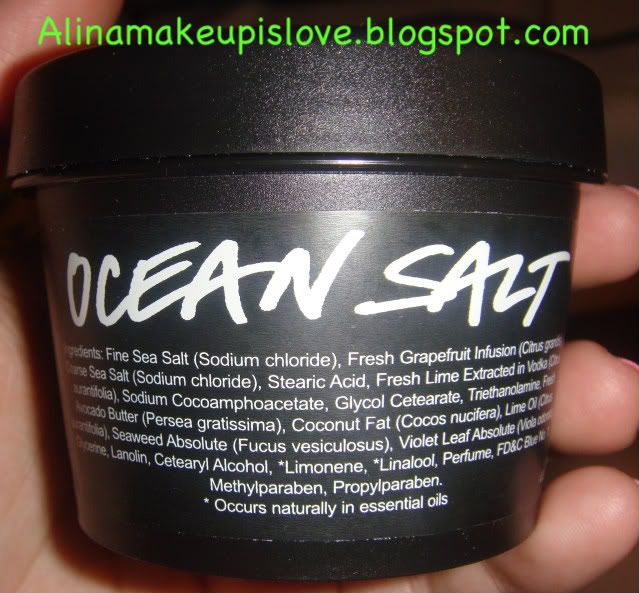 Ocean Salt Scrub Ingredient list
Ocean Salt Scrub-look at the pretty blue color
Ocean Salt Face and Body Scrub contains lime, coconut, grapefruit, and sea salt. I love the smell of this scrub, You definetley smell the lime. And I love the blue color of it! According to the Lush website, sea salt is great for toning, and refreshing the skin. I have only used this scrub about 3 times. And so far it's really nice. Again, this face srub leaves my skin so soft. Are all Lush products like this? That they leave your skin so soft? Wow! I apply this scrub on my damp face, and massage it into my skin for a minute. I love how this scrub leaves my skin. It leaves my skin soft, my pores seem less visible, and the blackheads on my nose seem less "out there". The only complaint that I have about this scrub is that I find the granules of this scrub a little harsh on my skin. I would have preffered the sea salt to be a little more refined and smaller and gentler. But it's all good! I like it anyways, and I would definetley repurchase in the future.
Note:

Most of Lush's products have a certain lifespan, since they are all-natural and organic products. The Fresh Farmacy Face Soap is good for about 1 year, and the Ocean Salt Scrub is also good for 1 years use. Make sure to always aska Lush SA for the product's life-span.
Have any of you all tried any Lush products? What are your favorites? Any you reccomend? Let me know in the comments section lovlies!
Disclosure: I purchased both the Fresh Farmacy Face Soap, and the Ocean Salt Face and Body Scrub at a Lush Store here in New York City.