Happy Saturday Senoritas and Senoritos!
Any exciting plans? My weekend is going to be spent studying for an Accounting midterm that I am going to be having on Wednesday. Wish me luck loves :)
Anyhoo, I did a little shopping a few days ago and I got some pretty neat stuff.
I was really craving some over-the knee boots, and I figured that I would never find a pair because most of the boots these days are pull-ons and the problem with me is that my calves are really thick (thick and fab!) and most of the pull-on boots dont go past them, so I gave up hope. Until...I stopped by my local famous footwear store (which is an awesome store by the way) and I spotted these amazing faux-suade over-the knee boots by Fergie's shoe brand-Fergalicious. Famous Footwear was having discounts on boots upto 50% (I think they are still having it, I am not sure) and originally the boots were $80, but with the discount they came up to $54.99! What a steal. These boots are amazing. Not only are they comfy, but they have a zipper which makes it so easy for me to put them on and they fit over my calves! YAY! They are spacious over-the knee and it looks very flattering. I also love the bow tie in the back. These boots look so chick and fashionable. I wore them with leggings yesterday and a dress and it was adorable. These boots look amazing with jeans as well. I am definitley going to rock these boots a lot this winter. Here is the link to these boots, from the famous footwear website. Click
here
to be directed.
Here are some pics: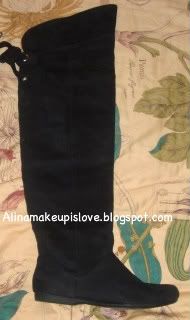 Such an adorable shoe box!
This cute note came with the shoes, in the box
I also stopped by American Eagle and snagged up these cute skinny jeans for only $30!
Lastly, I stopped by a beauty supply store and picked up 2 E.L.F. products. I got a defining eye brush, and a cream eyeshadow duo in Blueberry. I cant wait to do looks with it!
Like this stuff? Does anything stand out to you? Let me know in the comments!
Disclosure: I bought all these products on my own. I am not affiliated with any of the companies mentioned above.