Happy Saturday!
I hope your weekend is off to a great start. I have finally kinda-sorta jumped on the Illamasqua band wagon. I made my first illamasqua purchase and I am super duper happy about this one. It is the fabulous
Illamasqua nail varnish in Baptiste ($14.00).
Babtiste is a beautiful deep purple color, thats so creamy and contains flecks of little purple shimmers. I have them on my nails, and it is gorgeous! I feel so fab.
Application wise, Illamasqua polishes apply smoothly and you get a great even color in just one coat! When I applied this polish, i used 2 coats, but you dont even need 2 coats because you get a great opaque look with just one. I am happy that there were no streaks, visible brush marks, and no air bubbles. And the drying time is really short as well.
Here are pics of the polish. I definetley recommend this illamasqua polish in Baptiste. This purple is great for fall. Very chick!
Illamasqua Nail Varnish-Baptiste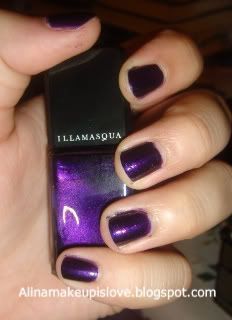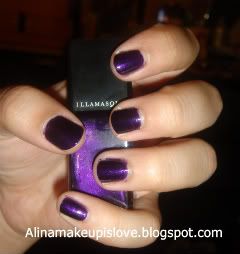 Also, when I was browsing the illamasqua isle in my local sephora store, I was really interested in their nail varnish polish in "phalic" which is a beautiful shimmery dark navy color. But I decided on getting "Baptiste"...but come to think of it, I think I am going to go back to Sephora and purchase Phalic. It's too cute to pass up! And navy polishes are another great color for fall.
Here is a nail swatch that I did when I tried Phalic on my nail at Sephora.
What do you all think of Baptiste? Love it hate it? Let me know in the comments! Have any of you tried Illamasqua polishes?