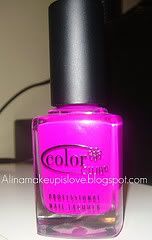 Color Club "Power Play"


Ok, I saw this color in Bed Bath and Beyond for $2.99 and I immedietley thought of this being a great dupe for Essie's Bermuda Shorts nail polish from their neon collection. Yall know I had to have this!

Power Play is a pretty, neon-like purple polish that is very wearable believe it or not. It isn't "too much" for the nails. As for the application, I applied this color in 2 coats, but next time I will do 3 as I believe 3 coats would make this polish extra opaque. The first coat was really sheer, but by the 2nd coat, I started to see the polish's true color.

I am happy this polish did not give me any trouble with application, no streaks, the brush was easy to use, and best of all-no air bubbles. I also love that it dries real fast too.

My only gripe about this polish color is that after it dries on your nails, the finish is not glossy at all-it's sort of like blah. Therefore, a shiny top coat is a must with this polish, or else your nails will look life less. I applied 2 coats of my shiny, clear top coat in order to finalize my nail application.

Here are some pictures of the polish, but I must warn you-these pictures do not do this polish any justice! My camera won't reveal the true color of this polish. But if you all know how Essie's Bermuda Shorts polish color looks like than you all get the idea of how Power Play truly looks like. Enjoy!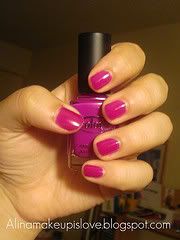 What are your favorite Polish Brands? Have any of you tried Color Club Polishes? Love em? Hate em? Let me know in the comments!