We made it to FRIDAY!!! Woooop Wooopp! Ok, I seriously gotta stop that, so corny!
Here is another arabic inspired tutorial. I love how this one turned out. Very colorful. And the heavy application of eyeliner on the lashline top and bottom! Love. I feel like this look really emphasizes my eyes. Here are a few pictures and products used listed below. I hope you all enjoy! I also added a fun scarf in pic 1 so pump up the look :) Oh yea, I forgot to mention that in order to get that sharp line, before you try this look apply a piece of scotch tape to the outer corner of the eye so you can achieve the nice, and clean eye line.
Have a great, and happy weekend loves!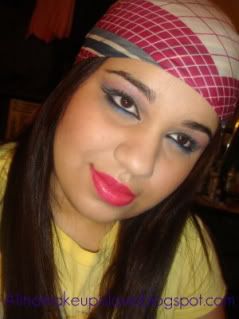 Face:
Foundation-Bare Escentuals ineral foundation in "Light"
Concealer-MAC Studio Finish Concealer NW30
Blush-MAC Mineralized Blush "Warm Soul"
Eyes:
1. Apply an eyeshadow primer all over lids. I used UDPP
2. Apply a golden color eyeshadow all over lids. I used NYX Golden eyeshadow
3. Apply a soft pink eyeshadow above the golden color. Taking the color above the crease, just under the brow bone. blend. I used Bare Escentuals eyeshadow in "wildflower".
4. Take a dark blue eyeshadow and place it just on the outer corners, and plend in circular motions. I used MUFE eyeshadow #167.
5. Take a black liquid eyeliner and place a thin line on your lower lashline, and smudge a bit. Then flick out a line. I used Personi waterproof liquid eye liner in black. Also, in the inner corners of the eyes, make sure to create a sharp point in the inner corners, so the top and lower lashlines meet. Also, take the MUFE eyeshadow #167, and smudge it on top of the liquid eyeliner on your lower lashline, so you can get that unexpectant pop of blue.
6. Line your upper lids, and create a cat eye flick on the outer corner.
7. Aply a black pencil eyeliner to the waterline. I used Avon Ultraluxury eyeliner in black.
8. Apply a black mascara to the top and bottom lashes. I used Benefit Bad Gal.
Lips:
1. Apply a medium pink lip color to the lips, and on top of that layer a medium red lip color. I used lip colors from the Personi lip palette.
2. Then, I used Bare Escentuals lip gloss in wearable nude to glossify the lips a bit.