Happy Monday Loves!
I hope you all had a fantastic weekend. I enjoyed mine, can't complain. The beautiful weather, and the time spent with my boyfriend, all resulted in a beautiful weekend.
Ok, Ok...enough about me. Now onto some serious stuff...kinda:)
We all know how important it is to moisturize everyday with a great moisturizer that contains SPF. Speaking of moisturizing, I think it is about that time that I give my HG Olay moisturizer the respect it deserves. What better way than to let you all know the reasons why I love this stuff?
For starters, I have the Olay Complete All Day Moisture Lotion SPF 15 ($11.99) in the
sensitive skin formula
. It is also available in the
Original Formula ($11.99)
. I chose the sensitive skin formula because it's lighter and it's not greasy.
Here are some great benefits of this moiturizer:
1. Contains Vitamin E, Aloe, and SPF 15 which protects against UVA and UVB rays.
2. Fragrance Free
3. It's dermatologist tested and it does not clog pores
This is a sensitive-skinned gal's dream when it comes to what a moisturizer should contain.
I always apply a quarter sized amount of this moisturizer onto my hand, and work that baby all over my face and neck. I give the moisturizer about 5-10 minutes to sink into my skin properley before I apply my foundation, and the rest of my face makeup.
I love that this moisturizer is a lotion, meaning that the formula is not too runny like other moisturizers. And it does not interfere with my makeup application. My makeup applies just as good. This moisturizer is so good, that it removes all the flakiness that I have on my face. I especially love the opening of the bottle, it is small enough so you can control how much product you want out. Also, the packaging is very sanitary-I am not too fond of moisturizers that come in jars...I am a squeeze bottle kinda girl.
Olay Complete All Day Moisture Lotion SPF 15 Sensitive Skin Formula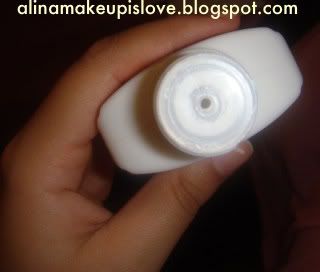 Convinient Opening-controls the amount of product that comes out
Moisturizing Face Lotion of goodness :)
Oh yea, and best of all...NO BREAKOUTS caused by this moisturizer! Amazing!
I definetley recommend this moisturizer for those who...
1. Have acne-prone, sensitive, and oily skin.
2. Don't like that sticky, and uncomfortable feeling that other moisturizer leave behind-this one will not do that! It applies smooth, and all that is left on your face is smooth, and soft skin.
3. Like their moisturizers without a fragrance. This olay moisturizing lotion is fragrance free...no offensive smell at all. I love this feature because, I really don't want my face to smell like anything.
Have any of you tried this moisturizer? What are your favorite moisturizers? Let me know in the comments!
Olay Complete All Day Moisture Lotion SPF 15 is readily available in all drugstores.