Hey Loves!
I know I have been MIA for the last few days. I have just been real busy getting ready for school to start up again, and other stuff that I have to deal with. But no worries, makeup always puts me in a great mood!
Lately, I have been into sporting pink nails a lot-I don't know why, I guess it's because I find that pinks flatter me more. For this nail of the day, I am rocking "Viva Pink" from the
Avon Nailwear Pro Collection ($5.00)
. It is a really creamy, hot pink color that was easy to apply, and streak free!
I got a great even application with 2 coats, but even with one coat you get a great color pay off. I can't wait to experiment with more nail colors from Avon.
Get yourself some Avon Nailwear Pro nail polishes! What are you waiting for?
Avon Nailwear Pro "Viva Pink" applied with 2 coats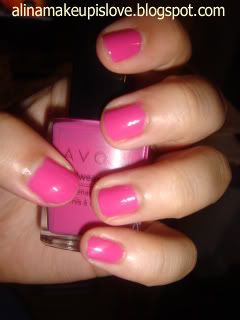 Looks lighter because the flash was a bit more stronger, lol
I hope you are all doing well lovelies!