Hey loves, I hope you all had a great day. I wanted to show you all some E.L.F. products that I picked up today. I love E.L.F. cosmetics because most of their stuff is $1.00! Talk about a bargain. I picked up a
Brightening Eye Color eyeshadow quad in Ivy
, a
Duo Shadow Cream in Butter Pecan
, and the
Wet Gloss Lash and Brow Clear Mascara.
Yup, you guessed it-each item cost only $1.00.
I have had a chance to try out the products and I am pretty impressed-but not so impressed with the Duo eyeshadow cream...more on that soon.
Wet Gloss Lash and Brow Clear Mascara:
I really like this double sided clear mascara One side is for eyelashes, and the other for brows. I applied some on my brows and I must say so myself, my brows look more in tact than ever! They are always all over the place creating a scene...naughty aren't they? The gel has a consistencey of jelly and when applied on my brows, it gives me a cooling, refreshing feeling. I love it. I will most likley end up using the eyelash side for my brows, as I suspect that both gels are alike. The only difference is the wands. The wand on the eyebrow side is more thicker and definetley looks more squared. The mascara wand on the eyelash side is shaped like any old typical mascara wand. I would definetley recommend wearing the clear gel mascara on lashes for those lazy days when you don't really feel like pilling on makeup. Just a quick swipe of clear mascara on the lashes and brows and you are good to go for the day.
Duo Eye shadow Cream: Butter Pecan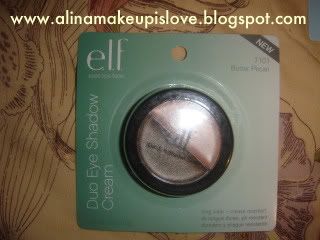 When I saw this cream shadow duo I really wanted to see if they would make good bases for my eyeshadows. I fell in love with the colors immediatley. One color is a pinky peach and the other a bronze. I noticed that the shadows were real creamy...maybe a little too much. I applied my usual Urban Decay Primer Potion prior to applying the cream shadows because my lids are greasy and oily if left without UDPP. Over the shadows, I applied eyeshadows from the Ivy Brightening eye color quad on top to make the colors pop more. I do think the colors were more vibrant, but I think that I should invest in a more steardier cream base because I feel as if they are starting to crease on my lids, causing my eyeshadows to crease. I don't know if I applied too much or what, but this stuff creases bad! I am sure it would crease even worse without UDPP used as a base. I do love the colors of the cream shadow and I will use up all of it and use them for future looks. Although it creased on me, I really want to try other Cream shadow duos from the E.L.F. line and see what they are about. Maybe I will get better results, who knows? I really love the container of the shadow cream duos. It is so cute!
Brightening Eye Color: Ivy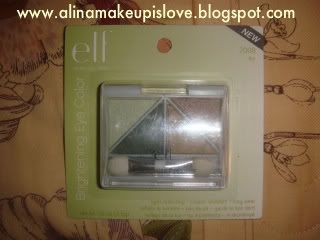 This eyeshadow quad is amazing! I love the fact that you get decent pigmentation with these, and they glide on the lids smooth like butter. So easy to blend out with a blending brush, and I love how wearable and how flattering the colors are. Once again, E.L.F. eyeshadows have impressed me. I have other E.L.F. eyeshadow quads that I love. I will do looks with them soon. When it comes to E.L.F. eyeshadow quads, the amount of looks you can do with them are endless.
What are your favorite E.L.F. products? Any recomendations? Let me know in the comments section!