Ok loves, as promised here are my feelings/thoughts on the three items I purchased from the post
below
.
Sephora Flirt-It Lash Duo
1.
Sephora Flirt-It Lash Duo ($8.00)
I am no expert when it comes to false lashes. In fact, I have never in my life tried on falsies but have always wanted to try. I spotted these at Sephora and for $8.00, why not practice applying false lashes with these? So I gave in and bought em'. Well, I dont think I like them very much because, when I got home I tried them out immedietley. But to no avail, it wasn't working out. Also, I didnt really like the lash glue because I found that when I applied the glue on the lash, it would dry up immedietley-meaning no room for me to play around and place my lashes where I wanted them placed. I don't know if it was my unexperience that caused these lashes not to work out for me, but I think they are going back to Sephora. I dont't want to dicourage anybody from trying these falsies, but remember this is only MY experience with them. Maybe all of you will have better luck than I did. I suggest trying them out for yourself and see how they work for you. If they do work, please let me know in the comments. I hear great things about ardell lashes and DUO lash glue, which are both found in drugstores. I am gonna keep an eye out for them and try them out.
Sephora Angled Blush Brush
2.
Sephora Angled Blush Brush ($28.00)
I noticed that I don't really own a blush brush. I just apply my blushes with big ol' powder brushes (I know, naughty me). So, I decided it was time for a proper blush brush to be added to my family of makeup brushes. I love it!!!! The brush is really soft against the skin and I love the slanted angle shape of the brush because it applies blush preciseley where it needs to go on the cheecks. It is also great for applying a shimmery highlighter on top of cheeks, and for contouring the cheeks as well.
Wet-N-Wild MegaLiner Liquid Eyeliner in 'Turquoise'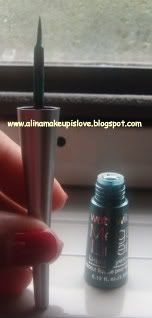 3.
Wet-N-Wild MegaLiner Liquid Eyeliner ($2.99)
Now I know why this Turquoise eyeliner is so much raved about...It is the most beautiful shade of turquoise (well, it actually leans towards more green than blue) But overall, I love it-it really makes my brown eyes pop. This liquid eyeliner applies smoothly, and easily on my lids. I love the applicator brush because its not really big which allows me to have control when I apply it. Let me tell you all something, this liner lasts and lasts! It does not budge until you remove with with makeup remover. This eyeliner color is great if you just want a fun pop of color on your eyes. Gorgeous! Definite staple for me.