Hey loves, I hope you are all had a great weekend. My weekend consisted of work, and sleep. Ahhh...nothing beats sleep!
But Anyhow, I wanted to show you all how fab this Sally Hansen nail polish looks on my nails. I believe that I have found my Perfect Red nail polish. This polish is great because it lasts super long with hardly any chips, this polish applies easily and non-streaky. I get a perfect, no air bubbles, non-streaky, true to color application with just one coat! Amazing!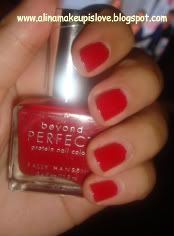 Sally Hansen Beyond Perfect Protein Nail Color 'Red Awakening'
This polish is amazing. I am telling you all, I love Sally Hansen polishes-you can never go wrong with them. And the color pay off is fantastic.
Unfortunately, the Beyond Perfect nail line has been discontinued according to the
Sally Hansen website
. But they do offer helpful and similar comparisons/replacements to their new polish collections. According to the website, Red Awakening's replacement shade consists of Salon Nail Laquer in the shade "Reddy To Mingle".
Did any of you check out my blog post where I showed you all how cool the
Sally Hansen Salon Nail Laquer
is? If not then check it out
here
. In that post, I had my toes painted with the shade "Orange You Cute?"
What are your favorite polishes? Any recommendations? Let me know in the comments section loves.