Hey loves!
Just wanted to stop by and check in on my lovely readers. I am here hanging out in the hubby's house. I am here waiting for him to come home because he went to work...I miss him ;( But he will be coming along soon, so I can wait. hahaha.
I hope you all are enjoying your Thursday so far.
I leave to Cancun on Monday loves! I cant wait! I will be MIA for the rest of next week but I will be sure to post a lot of pictures from my trip. Last I checked on the status of the weather in Cancun it was not looking pretty good...rain, rain, and more rain. I hope mother nature cuts us some slack in Cancun, and provide us with lots of warm weather and sunshine.
Here is a pic of how I look today and what I am wearing-my most favorite shirt ever from American Eagle! This black and white checkered shirt is a staple in my wardrobe. I have worn this shirt with jeans, leggings, and coming up I will wear it with cute denim shorts. As for the makeup. I just kept everything simple. I put some tinted moisturizer, and I did a neutral eye with some black eyeliner on the top lash line. As for the lips, I just did a clear gloss.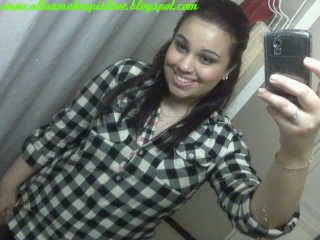 have a good one lovelies.