My hair is a real frizz-ball if left unattended. If it wasn't for Sedu, the most coolest, and baddest flat iron ever, my hair would have no hope at straightness.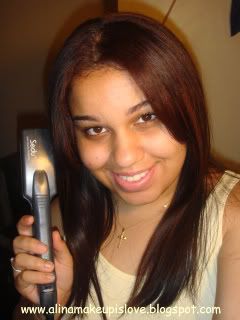 My Sedu and I
I first saw the
1 1/2 inch Sedu Pro ionic Ceramic Tourmaline Flat Iron
when I was browsing on Folica.com for a new straightner. I was tired of cheap ol' drugsotre flat irons that would never work for me. They would still leave my hair frizzy, and rough. Enough was enough! I was convinced that I was going to go for a Chi flat iron-since they are highly raved about all the time and professional stylists swear by it. But it was the Sedu flat iron that caught my eye.
1 1/2" Sedu Pro Tourmaline Flat Iron
I was reading the customer reviews for the Sedu 1 1/2" iron at Folica.com and I was blown away at how many positive feedbacks there were. There were many before and after pictures of REAL PEOPLE who tried and tested this flat iron, and they were very content with their results.
I wanted to be like those people, and I went ahead and ordered the Sedu flat iron. And I have absolutley no regrets-it probably was the best decision I have made for my hair.
The Sedu flat iron has many features and benefits that will do any and every hair type some good. The thing I love ost about the Sedu is the Tourmaline ceramic plates. The plates are loaded with ion, which help take away frizz and static-resulting in smoother and shinier hair. I am sure most people would love to know that this iron does not pull or snag my hair like others have-major pain!
Sedu Tourmaline Ceramic Plates
The Sedu has an exclusive infra-red heat technology which helps hair seal in it's natural moisture, and heat optimization energy that protects hair from heat damage. I really love the lightness of the iron. Most flat irons that I have tried are super heavy, but not this baby. The Sedu is very lightweight-no joke, sometimes I dont even feel like I am holding anything when I hold the Sedu in my hands.
A great benefit that many may agree with me on, is that the Sedu flat iron contains an adjustable temperature control. It goes from 250 degrees Farenheit to 410 degrees Farenheit. You can make sure there is a comfortable heat seating for every hair type. When it comes to my hair, I usually set it at 360 degrees F or 410 degrees F because my hair is very coarse and frizzy. I make sure to wear heat protectant and I hope you all do too!
Sedu Temperature Control switch
If any of you are looking for a very high-quality flat iron, Sedu is the one for you! I am so happy I got this flat iron because my hair has never looked better. Honestly, other flat irons were damaging my hair, but not this one. The Sedu provides me with everything I need for my hair to look it's best. I blow dry my hair until it is about 95% dry, then I follow by taking sections of my hair and ironing it with the Sedu. My hair has never looked better.
I love my Sedu so much, I gave him a kiss (pardon my Dominican Republic Flag in the background hehehe)
You can purchase the 1 1/2" Sedu Pro Ionic Ceramic Tourmaline Flat Iron
here
. It retails for $119.99, but you get a free heat proof pouch and free shipping! Great Deal Loves. If 1 1/2" ain't your thing, there is also a 1" Sedu Ionic Ceramic Tourmaline Flat Iron available. You can find that one
here
. And it retails for $108.99 (comes with a free heat proof pouch and free shipping!).
Have any of you tried the Sedu flat iron? If not, what are your favorite flat irons? Let me know in the comments!