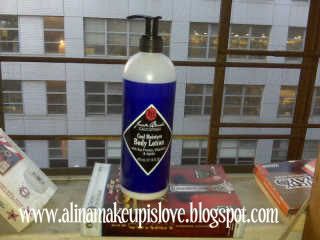 note: please excuse the video games all over...I took this picture by my boyfriend's window and he is a huge video game lover:)
Hey all! I hope you all enjoyed your weekend. I am writing now from my boyfriends apartment and I spotted the Jack Black Cool Moisture Body Lotion that I bought for him in Sephora awhile back ago. My boyfriend has dry skin and he needed a little lotion lovin' in his life. Jonathan (my boyfriend) likes to keep things simple-he is the type who will skip lotion and just spray his cologne and go! But I want him to realize that men need to take care of themselves, just as much as women do.
We were at Sephora and we went to the men's section and we spotted the Jack Black Body Lotion and when he smelled it he really liked it. So being the sweet, loving, girlfriend that I am (HA!) I offered to get it for him.
What I love about this body lotion is that it has great ingredients to really moisturize the skin. It contains Soy Protein, Vitamin E, and Jojoba.
According to the information on the bottle-Soy Protein is used to "deeply moisturize and hydrate dry, damaged skin cells", Vitamin E is used to "help smooth and soften dry body skin", and Jojoba "penetrates below the skin surface to keep skin supple and hydrated". This lotion also helps soothe redness-which Jonathan has. After Jonathan applies the soothing lotion to his arms, his skin feels really cool and hydrated. The smell is pretty good too. I can't really describe it but it is a smell that men will enjoy. This lotion is not greasy, doesn't feel sticky, and the best part is that it is dermatologist-tested, meaning that even the most sensitive skin types can use this. And may I add that I love the huge 16oz pump bottle the lotion comes in? I am trying to get my Jonathan to try more of Jack Black's products in his line...wish me luck!
Go get that special man in your life some of this lotion ladies...they will thank you for it.
Jack Black Cool Moisture Body Lotion is Available in Sephora stores and www.sephora.com and it retails for $22.00. Find it
here
.
Here is Jonathan and I happy that he is all lotioned up! hahaha.