Hey Loves, I decided to create this makeup brush series in which I let you all in on my favorite must have makeup brushes. The series will consist of two parts: Favorite eye brushes, and favorite face brushes. I hope you all find these makeup brush series helpful and very informative. Makeup brushes are really the all-stars when it comes to great makeup application and I believe they deserve a shout out!
1. Must have eyeshadow brush: E.L.F. eyeshadow brush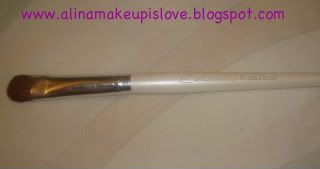 The E.L.F. eyeshadow brush is my favorite eyeshadow brush ever! The brush picks up a great amount of color and applies the eyeshadow so easily and smoothly. What really amazes me is that when I wash this brush, it never sheds or turns scratchy on me. It stays soft and keeps its shape really well. And for only $1.00, the price can't be beat. This is an amazing high quality eyeshadow brush with a great price tag to go along with it.
2. Must have crease brush: Sonia Kashuk large crease brush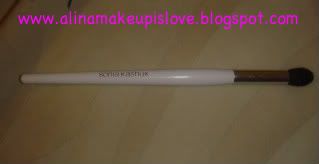 I have never tried any sonia kashuk brushes. But I always hear great raves over them. I was at my local target one day and I decided that this crease brush was going to be my first sonia kashuk purchase. when I saw this brush, I immedietley thought of the limeted edition MAC 226 brush which was a crease brush from the Brunette blonde redhead collection. The brush came to be very hyped about and I sadly missed out on it. When I saw the Sonia Kashuk brush, I thought that it looked a bit similar to the 226 brush because it had that tapered point like the 226 did which would make for a great precise crease color applicaton. I love this brush, it realy makes applying my crease colors really simple and it blends the colors really beautifully and effortlesley. I purchased this brush at Target for about $7.00
3. Must have eyeliner brush: Avon eyeliner brush
I saw this eyeliner brush in an avon catalog that my sister brought me (she is an Avon representatice) and I saw it was on sale for $1.99. I decided hey why not try it out because I have a really hard time finding good eyeliner brushes that help me better my eyeliner application. To this day I still have a hard time perfecting my eyeliner application but I think all of that has come to an end! This eyeliner brush is angled and its small which I like because it gives me control over how I apply my eyeliner. before it used to take me 5 minutes to apply eyeliner, but now with this amazing little brush, it takes me no more than 1 minute! I definetley recommend this brush for those who have trouble applying eyeliner, and those who use gel eyeliners or cream eyeliners because you get a great precise line all the time and it is really super easy to create a winged out fool-proof eye.
4. Must Have double ended versatile Eye Brush: Essence of Beauty Smokey-Wide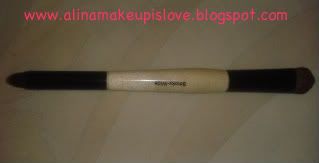 I got this brush at my local CVS drugstore for a little under $10.00 and I love that it is double ended. One end contains a big ended eyeshadow brush which is a bit similar to the MAC 227 brush. The other end contains a soft pointed brush. I use the all over eyeshadow brush to apply my highlighter on my browbone, or sometimes when I want a quick all over eyeshadow application on my lids, this does the job wonderfully. And I use the pointed angle side to do outer V on the outer corner of my eye lids. Overall, this brush is great and very versatile.
5. Must have eye Blending Brush: Sephora blending eye #29
I love going to Sephora for all of my beauty needs. I also love their blending eye brush. This brush is so soft and I can wash it multiple times without any shedding and the brush still stays in shape. I got this brush for about $14.00 at Sephora and I really love it. This brush blends my eyeshadows easily and beautifully, and it picks up color really well. No complaints from this corner!