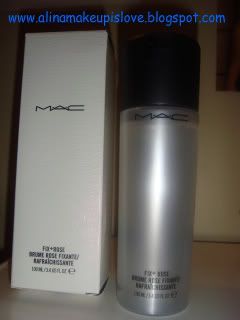 Hey Loves, Here is the long-awaited-most fascinating review ever!!! (ok, I kinda over reacted there hahaha. I want to let everybody know that this review comes from the heart and it is from my personal experience.
Product Description:
"A soothing moisture Mist that refreshes the skin and finishes makeup."
Instructions:
"Hold bottle 12" away from face and spray evenley. Use before or after makeup."
My Views/Feelings:
I have always wanted to try the original MAC Fix + because I have always heard great things about it. I loved the fact that it has been considered by others a multi-use product-great for applying pigments, great for applying mineral makeup, and great for making the face seem more dewy and take away the cakey powdery look that foundations and other makeup leave behind. So when I heard MAC was coming out with Fix + Rose, I decided to purchase it because I have read great things about it and I was ready to enter the Fix + world-with a hint of rose scent. I know the original does not have a scent, but I felt that a rose scented Fix + would be a treat for me...and I thought what better time to test drive Fix + than now!
I am an avid mineral makeup foundation kinda girl. I always use Bare Minerals foundation because, I dont really like the feeling of a lot of product on my face. Especially now, that the weather is getting warmer I want to use minimal makeup as much as I can. I must admit that sometimes I over-apply the mineral foundation, which occasionally leaves my face looking a bit cakey-especially on my forehead and chin area. I decided to put Fix + Rose to the test and see if the cakiness on my face would vanish and have my face looking like a dewey godess.
Application Technique:
1. I started off by taking my Bare Escentuals Handi Buki brush (I use this brush to apply my Bare Minerals foundation) and spritzing the brush with Fix + Rose only once while holding the Fix + rose a few inches away from the brush.
2. I poured some fouondation on the lid and took my brush and swirled it in the lid to pick up some foundation. Then I applied foundation to my face and I was utterly amazed...my face looked really dewey, my skin looked healthy, and my face just glowed. This was amazing...I couldnt believe it.
3. After I applied the foundation all over my face, I spritzed my face with Fix + Rose just once while holding the bottle a few inches away from my face (if you do this gals, close your eye mmkay?) I wanted to finish off the look with a final spritz. I do agree that this product feels hydrating to the skin, like it drinks it up, and my skin feels really cool and refreshed when I spray this on my face.
Final Thoughts:
While this does give my face a nice dewy glow to it, and it has not broken me out at all while I have been using it (I have been using Fix + for about 1 week) I actually think this is making my face a little more oilier than usual. I dont know if this is happening because my face is already oily to begin with, but when I wear mineral makeup alone without using Fix+ Rose, my makeup is usually in tact and I get a little oily not really oily like I do when I apply my foundation with Fix+ Rose. I feel like my mineral makeup slides off my face after a mere 2 or 3 hours. But it is nothing im sure good old translucent setting powder cant fix. I really enjoy the scent as well, it does smell like roses-the smell sort of relaxes me a bit, and the scent is not overpowering which is a plus. Overall, I will keep using this but only for my pigments and just to spritz my face after I apply my foundation. And I did test it out on my pigments and it works really great for that. When I run out of this I probably will purchase the original Fix +, but only for applying my pigments. I dont like this on my face too much...maybe I will just not use this while applying my foundation and I should just use it at the end when I finish applying my makeup to set everything and refresh/hydrate my skin a bit.
Pros:
1. Nice Scent
2. Great Multi-Tasker (great for refreshing face, applying pigments)
3. Makes skin feel refreshed and hydrated
4. Takes the powdery and cakey look off the face
Cons:
1. Makes my face a bit more oilier
2. Its limited edition
Product Rating:(out of 10)
-7
I hope this review was helpful. If any of you have questions or comments please leave them below in the comments section and I will get right back at ya *_*
A Rose for you all, Alina